Washington luxury homes are some of the most extraordinary deals in this market anywhere in the United States, but luxury homes in Washington and on the Olympic Peninsula seem to be the best kept secret.  Billionaires and millionaires have been busy buying luxury homes around some of the elite areas of the country, and wealthy investors are buying homes by the dozen in Las Vegas and in key locations in Arizona.
Washington Luxury Homes Best Kept Secret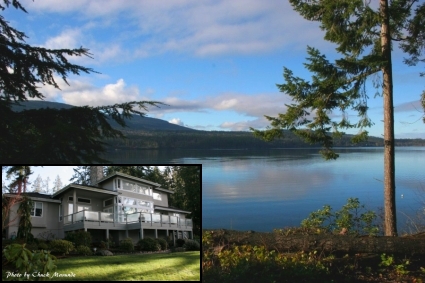 The super wealthy International buyers are snapping up mansions in the U.S. at bargain prices with the market down and with the U.S. dollar down.  Internet investor Yuri Milner paid $100 million for a Northern California mansion recently, and other foreign billionaires are buying mansions in Florida.  "International buyers purchased an estimated $82 billion worth of U.S. homes in the 12 months ended on Mar. 31, a 24 percent increase from the previous 12 months, the National Association of Realtors reported in May."  [See Russians Prop Up Luxury Housing Market]
Washington Luxury Homes Demand is Very Low
The Olympic Peninsula and the Sequim area, including Sequim Bay, Discovery Bay, and around the Strait of Juan de Fuca, are relatively unknown areas for the super wealthy.  This means that the demand for Washington luxury homes is low around the Strait and a gorgeous water front or water view home can be bought at the lowest prices in decades.  While this is unfortunate for sellers who are now taking a loss on the sale of their Washington luxury home, it is definitely the find of a lifetime for the buyer who can afford to buy a luxury home now.
Washington Luxury Homes in the MLS
You can have fun looking at some of the most incredible Washington luxury homes on the Olympic Peninsula and around Sequim, Washington right here at Washington Luxury Homes for Sale.
Last Updated on September 16, 2011 by Chuck Marunde