The Sequim MLS shows us data for Sequim homes listed for sale and sold.  If you click on this image below, you will get the enlarged version, and you'll see a detailed Sequim MLS market report for all listings in the county.  If you drill down to the 3 bedroom listings, which I've marked with a red arrow, you'll see there are currently 644 active listings, 247 have been sold this calendar year, and the average listing prices and selling prices.  The data shows that homes in this category have sold for 94.57% of their listed price, but that is misleading.  That calculation is based on the last listed price, not the original listing price, which may have been much higher.
Sequim MLS Data is Revealing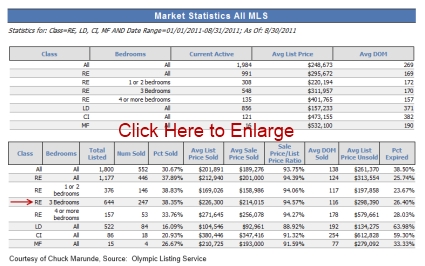 Sequim MLS – Homes Listed and Sold
In this 3 bedroom category, the Sequim MLS tells us that the average days on market (DOM) were 116 days, not nearly as high as one might think in this market.  As I have written elsewhere, retirees are looking for homes in this category, and the best homes in the best areas at the best prices are selling within reasonable periods of time.
Sequim MLS Says Local Market Good
Skewing the data somewhat are homes that have been taken out of the MLS, and in this category 26% of the listings expired rather than sold.  Logically these would be the homes that have been on the market much longer, perhaps several hundred days.
The Sequim MLS tells us that the real estate market is generally weak but it also tells us retirees are still buying.
Last Updated on September 16, 2011 by Chuck Marunde