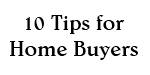 Today I share 10 tips for home buyers.  A big part of success in life is avoiding traps for the unwary.  The same is true when you buy a home. Avoid pitfalls, and you will save yourself a lot of stress and possibly a lot of money. These ten tips for home buyers grew out of recent experiences representing buyers in Sequim and Port Angeles.  None are made up.  All are real.  All are dangers that I helped my clients avoid just in the past six months.
Tips for Home Buyers:  Watch Out For

A home that will not qualify for a loan because it has no foundation and/or other construction issues that loan underwriters will no longer accept.

A listing advertised with a water view when it really only has a peek-a-boo water view.

A home that has hidden defects, like nail holes in the cathedral cedar ceiling that are not easily visible, or a home that was built without a building permit.  There are a hundred traps for the unwary like this.
Legal Tips for Home Buyers:  Watch Out For

An estate sale home where no one is legally responsible for non-disclosure of defects known by heirs or the trustee, a classic buyer beware sale.

A seller disclosure statement that reveals virtually no knowledge about the property with "I Don't Knows" for all the answers.


Land with no legal access.

A short sale listing price that will not be accepted by the bank, so that even a full price offer will end in disappointment after two months of waiting.

Subtle Tips for Home Buyers:  Watch Out For

A dual agent who first represented the seller and now wants to represent you as the buyer with "It's okay.  It's legal."

Red Flag:  A foreclosure now owned by Fannie Mae (too many nightmare stories to share here).

A home that is unique enough that underwriters reject the comps on an appraisal and kill the loan.
Have you run across a unique scenario that was a trap that almost caught you?  Share it with a comment below.  Need help understanding a current situation or negotiating a difficult challenge?  With over 30 years in real estate and 20 years as a real estate lawyer, I would love to be in your corner on your transaction. As your buyer's agent in Sequim or Port Angeles, I'll help you avoid traps the unwary and you'll be able to compile your own tips for buyers.
Last Updated on September 20, 2019 by Chuck Marunde