Buying a home is all about compromise. Which kitchen would you prefer, the one on the left or the one on the right? The kitchen on the right is brand new with a hardwood floor and modern new appliances. But would you guess that the home on the left sold for $525,000 and the home on the right is listed for sale at $258,000? The rest of the house and the property account for the difference, but money–more of it–gives you more choice. Even with a lot of money, buying a home is about compromising. There is so such thing as the perfect home on the perfect lot with the perfect view. But you can hope to come close, and the higher your budget, the closer you can get to that ideal home.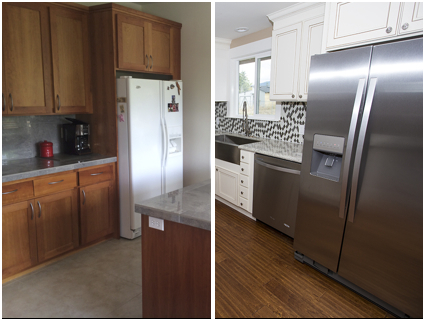 Buying a Home and Compromise
Buyers often say to me, I wish I could mix and match. This lot is perfect. If only the last house was on this lot . . .  And location is a major challenge, because I have shown clients the perfect home and property, but it is way out of town or on the far west side of Port Angeles, and they don't want to be that remote. One could only wish that buying a home was easier.
Buying a Home
Searching online and reviewing photos and location is one of the best ways to filter. But let me share what many of my clients do. They search, filter, and email me their most interesting properties asking me for my thoughts. I'm able to describe most of these homes in great detail, because I've shown them, and I can talk about the driveway, the neighborhood, and how far it is from your favorite stores. Just another way we take customer service seriously for our clients. Buying a home ought to be interesting and fun, and it always is for my clients. But I would also say that buying a home for 99% of my clients is about compromise.
Last Updated on September 22, 2019 by Chuck Marunde