I love this Port Angeles home with a mountain view, and not just any mountain. This is Hurricane Ridge out the window, and it's beautiful. This home sits on 5 private acres with a fenced back yard, all on one level with no stairs and ADA qualified. There are no stairs from the garage into the house. There's an emergency generator, too.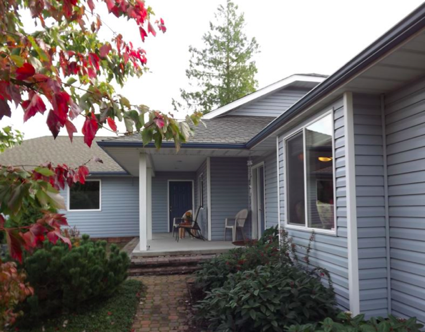 Port Angeles Home With a Mountain View
This is a custom built home with high quality materials and workmanship in a gorgeous area up Deer Park Road but only 15 minutes from the hospital. Hurricane Ridge is a great view from the living room windows. The open floor plan is what so many retirees want. You can be cooking in the kitchen while holding a conversation with your spouse who is sitting in the living room and watching TV.
Port Angeles Home With a Mountain View From the Dining Room
With 5 private acres and an unhindered mountain view, this is a rare find, especially at this price. You learn more about this home by going online at the MLS at Port Angeles Home with a Mountain View.
Last Updated on September 21, 2019 by Chuck Marunde