Do you like the Olive Garden Restaurant? The Pasta Fagioli with breadsticks and salad is a great and very reasonably priced lunch. Sequim does not have an Olive Garden, but it's an easy drive to Silverdale where there is one. It's a one hour drive, and well worth a Saturday or Sunday afternoon trip.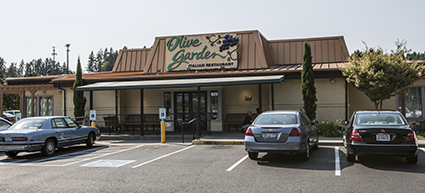 Olive Garden Restaurant
Sequim could use more nice restaurants. We have some fast food restaurants, but we have a limited number of fine restaurants. Here's a nice little list of Sequim and Port Angeles restaurants with links to their websites: Sequim Restaurants.  Not on this list are two new Sequim restaurants that are really fantastic. The first is Nourish Sequim, and you'll find an article at Nourish Sequim. Another I love is Blondie's Plate. Fantastic. The Docside Grill at John Wayne Marina is outstanding and deserves mention here. 
Olive Garden and Sequim Options
At some point I am sure we will see an Olive Garden in Sequim, but it hasn't happened yet. Still, it's worth the drive to Silverdale.
Last Updated on September 22, 2019 by Chuck Marunde