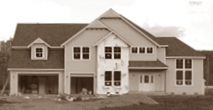 One of my greatest concerns for consumers involves home builders who suck people into their office with ads promoting ridiculously low price per square foot rates.   Once might ask why I write about this issue, and the answer is because people keep falling into this trap for the unwary.   Again and again.   Here is a real testimony of a consumer who hired one of these "low price per square foot" builders.   I've left her words as she wrote them.   I prefer not to specifically name her builder in this article, but this company is not the only one like this.   This is the reason I harp on doing one's due diligence when hiring a home builder.   Here's her true story.
Where does one begin when dealing with [name deleted]? They make it sound like a breeze (promised 4 months and our house would be done) HA! About 1 year and 3 month later we moved in but the house still wasnt complete. We have been in the house 4 months and the house is still not done. Of course they say that once you move in (which we were told to do by the site supervisor since we were way past out move in date) nothing on the punch list will be completed. So we withheld the last payment for carpet (about $3500) and they put a lein on our house! All this after our first back wall fell over (with the windows in!) so they were just going to put up the wall again. My husband told them NO WAY so they rebuilt the wall and put the damaged windows back in! So needless to say we had to fight for a month or more to get them to replace the windows and I think one is a damaged one. My husband was there everyday checking on things and making them do things over and over again. It was NEVERENDING.
Holes in walls that wires were coming through going nowhere.
Bowed walls from sheetrock over warped boards.
Cabinets sitting in our living room for over 4 weeks.
Doors not shutting or fitting properly.
Wrong counter top installed in bathroom.
Crooked siding.
Downspout placed in wrong location.
No ducting or vent in laundry room.
No electricity to the jetted tub.
Cabinet drawers and cubboards not operating properly.
Outlets wired backwards.
No power to outlets on one wall in bedroom.
No window screens ever delivered.
Unfortunatly their repairs were almost worse than the original problem. To fix one of the problems with the sheetrock they sent out 2 guys who worked for 6 hours (we also fed them lunch) to repair 2 spots the size of a small book. And still it looked horrible so he said 'your done' and we had his brother fix it. In fact we paid ALOT of $ out of our pocket to my brother in law to fix their mistakes. We went through 2 site supervisors and many delays. The things I have listed above are still not corrected. The company was ALWAYS calling us on the 5th of the month if they didnt get their draw check but do you think we ever got a call about our problems OMG NO! We got NO response from them until filing a complaint with the BBB. NOW they are willing to meet with us. Please Please Please read their contract it was written by them to profit ONLY them. They dont care about you only your CASH $$$$.
There you have it.   How do you avoid this kind of nightmare?   Find the best builder in the area. How do you do that?   Talk to the right people.   Be careful, even this builder in the story above had employees and some others saying how great they are.   Be very careful.   If you're building in Sequim or Port Angeles, let's talk.   I won't mislead you.   Did I tell you I offer my advice free?   Where are you going to get a retired 20-year real estate attorney who knows most of the builders in the area, and who is a real estate broker who can advise you on building your next home . . . all free of charge?   Right here.   Chuck Marunde at 360-775-5424.
Last Updated on September 2, 2019 by Chuck Marunde