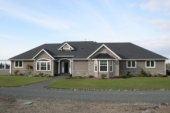 Dealing with a home builder and building your retirement home can be stressful, and there are a few traps for the unwary.  I received a call this week from a client who owns a gorgeous high bluff water front lot on Bainbridge Island.  She and her husband are near retirement, and they found a home builder on the Island and began making plans to build their dream home.  This home will be the fulfillment of a long term plan they have had for many years to build their financial security for their retirement years and then to build their ultimate home and live happily ever after.  That's the plan for most of us, right?
Home Builder Nightmare
Unfortunately, as they began striking up conversations with people on the Island, they learned their home builder had a trail of bad relationships, unpaid subcontractors, and a questionable history as a home builder.  And then they found out that their house was to be the last home the builder intended to build.  He was planning to move overseas.  I've said it before, and I'm compelled to say it again, "Truth is stranger than fiction.  You simply can't make this stuff up!"
Unfortunately, they had advanced the builder $6,500.  Fortunately, they had not signed a contract yet, and so they would only lose the $6,500.  They can ask for it back, of course, but they'll never see a dollar of that money.  There's no doubt about that.  I practiced real estate law for 20 years, and I've seen this same scenario many times.  The attorney's fees to chase the money would exceed any recovery, but typically the builder has already spent the money anyway.  This is an example of a case when it is a good time to cut one's losses and chalk it up to an expensive education.
Finding a Good Home Builder
Finding a good builder is something I've written about extensively.  I've written about the exact scenario above and other similar nightmares, and I've described precisely how to avoid these traps for the unwary and how to find and identify the best home builder.  Here are some of those articles.  These articles were written with 20 plus years of experience of hearing from hundreds of clients, each of whom had trouble working with a home builder.  You could say that the lessons in these articles, and the other articles on this blog about building and working with contractors, cost many people hundreds of thousands of dollars from the school of hard knocks.  Why not take advantage of the lessons they paid for, and from which you can now benefit at . . . let's see, how much?  Oh, absolutely free on this real estate blog.
Sequim Home Builder: Price Guarantee

Sequim Home Builder Does it Again

Who Should I Hire First – Architect or Builder?

Your Sequim Home Builder and Quality

Home Builder Needs Adult Supervision – True Story
Home Builder Works With Architect
You might wonder how the client in the story above found that builder.  Their architect gave that builder a high recommendation.  Turns out there may be a cozy relationship between the two.  Great.  I wrote a very important article about the danger of hiring an architect first, and it is a very real problem.  Read the article above about "Who Should I Hire First – Architect or Builder?"  If you read that article, you'll see a very ugly comment from an architect who tells me how out to lunch I am.  Since the client above just lived through the exact scenario I described in that article,  I would say I may be wet, but if I am it is just a little dampness.  [P.S. I have nothing against the architectural profession, just against dishonest or unethical individuals.  Every profession has a few of those.]

If you are planning to hire a Sequim home builder, I recommend you talk to Rick Anderson of Anderson Homes, LLC.  He is, in fact, a man of integrity, not to mention a really great custom home builder.
Last Updated on September 2, 2019 by Chuck Marunde