Foreclosure help is available, although in the Sequim area we have very few foreclosures compared to everywhere else around the country.  A lawsuit by Washington State Attorney General Rob McKenna clearly lays out the arguments for consumers, and if you'd like to see what those arguments are in the actual complaint, go to Foreclosure Help.  Consumers definitely got ripped off by the mortgage and banking industry, and while a recent $25 billion settlement with the banks is a good thing, millions of Americans will never be made whole.
Foreclosure Help in Washington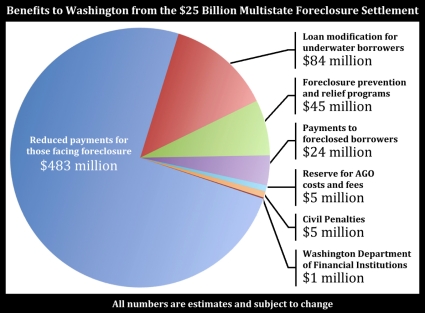 Foreclosure Help
Unfortunately, for the vast majority of homeowners who had their homes foreclosed, or who are going through a foreclosure right now, foreclosure help comes too little too late.  I don't know anyone who has received relief and who has been made whole from a wrongful foreclosure, nor do I know anyone who knows anyone who was made whole.  The hullabaloo is probably more of a politician's heyday to get attention than it is really to help individuals.  If you click on the image above, you'll be taken to the Washington Attorney General's website where you'll find more information on possible help and resolutions.
Foreclosure Help – More Articles on this Blog
Is Your Sequim Home in Foreclosure or Close To It?
Foreclosure Help. Foreclosure Process in Sequim Do you own a Sequim or Port Angeles home that is now in foreclosure or just a month or two away from the . . . 

Short Sale, Deed in Lieu, or Foreclosure
Foreclosure Help.   The foreclosure process is quite involved and takes a minimum of 6 months and more often 12 months. As a Realtor I don't list foreclosures, but . . .

Foreclosure Process Defective

Foreclosure Help.   The foreclosure process of many homes around the country is being challenged because of allegations of wrongful procedures by financial . . .
Last Updated on September 2, 2019 by Chuck Marunde