Sequim, Washington is an amazing place to live as so many retirees will testify, but it is also a great location from which to explore the Olympic Peninsula.  I highly recommend a very enjoyable weekend drive, which will take you from Sequim around the Olympic Peninsula on one of the most scenic winding two lane roads to the popular destination Ocean Shores.  As you pass through Port Angeles heading west on Highway 101 (the same 101 that travels all the way down the California coast), the highway will meander along the coast, often taking you out on high bluffs hundreds of feet above the water.  As you travel west toward Neah Bay, you will be looking at the Strait of Juan de Fuca to your right (and north), and beyond Neah Bay, you will begin heading south and your water view is now the North Pacific Ocean.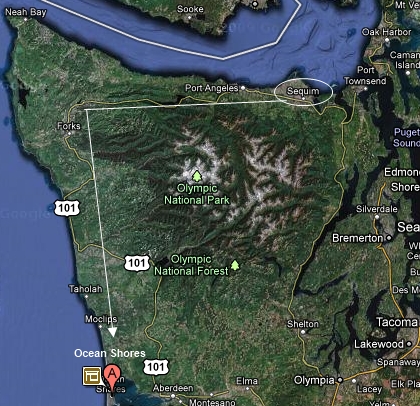 I've taken the drive to and from Ocean Shores by car and by motorcycle, and on a beautiful day, I found myself stopping many times to take photos of beaches, of birds, and of a nice sunset.  It's about a four hour drive one way, and you can do that in one day, but I would recommend making it an overnight casual trip with plenty of time to explore and walk the beaches.  There's a luxurious Casino in Ocean Shores with a plush hotel and a restaurant that has a steak and seafood platter so good, my mouth is watering as I remember it.  There are also several hotels on the beach in Ocean Shores, including the flashship hotel of Shilo Inns.  From the hotel you can walk or jog on the beach for miles.  When the waves are crashing onto the beach, it is a beautiful sight and sound.  Here's a photo I took while doing precisely that.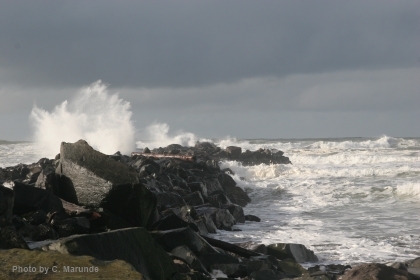 If you love photography as I do, you may not be able to resist beach logs either.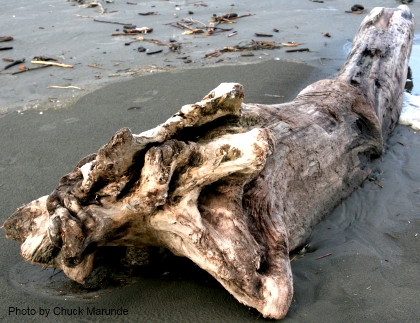 From Sequim to Ocean Shores and back in a weekend–a very pleasant trip I highly recommend.
Last Updated on July 27, 2012 by Chuck Marunde