There are more hiking trails in and around Sequim, Washington, and within reasonable driving distances than you could possibly hike.  I just got back from an incredible hike 2.5 miles up a challenging but not-too-difficult hiking trail to the top of a panoramic view of mountains, valleys and lakes.  It's called Rattlesnake Trail, and it's a two hour drive from Sequim, depending on your timing for catching the ferry, and just outside Isaaquah off I-90 an easy drive east of Seattle.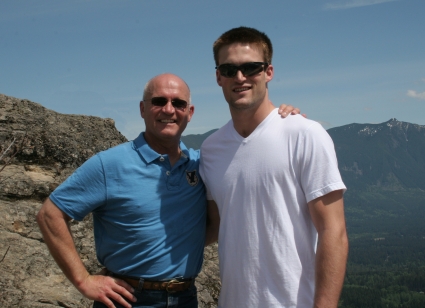 In this photo is my son, Brady Marunde, who happens to be taller than me at 6'5″.  That often happens when sons grow up.  Darn it.  All three of my sons grew taller than me.  I hope my daughter, who is 13, will not be taller than my 5'9″, or I will be the shortest one in my family.
You can read more about Rattlesnake Trail on the Internet at Hiking Trails in Washington.  This is one of hundreds of hiking trails within an easy drive from Sequim.
Last Updated on July 27, 2012 by Chuck Marunde