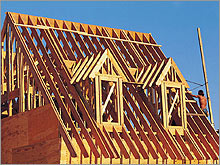 Homes and Land are still selling, albeit at a slower pace.   The northwest region of the U.S. has been one of the strongest real estate markets nationwide.   In Pierce County, for example, the median price of homes appreciated from $151,900 in 2000 to $254,221 in 2008.   In 2008 those sames homes are worth only 8% less than they were in 2007.   This is pretty darn good, all things considered.
Home builders are hurting across the country right now as the demand for homes has decreased, and the devastated mortgage market has not helped.   But there is good news in the silver lining here for people who have been planning to build their next home.
The good news is that the cost of building materials are down, and subcontractors have been shaving their bids down, too.   On top of that, the price of lots has been dramatically effected by the slow down, more so than existing homes.   Interest rates are low, and combined with the low cost of land and building, there has not been a better time to build a home in many years.
Some builders are offering incentives.   For example, Rick Anderson of Anderson Homes in Port Angeles, Washington, is offering referral fees of up to $2,500 to those who send him business.   Builders are also very competitive with their bids and the services they offer.
So what are you waiting for?   The bottom?   By the time the bottom of the market is officially recognized, interest rates will already be climbing above where they are now, and builders will be getting orders, and material costs will find a new, higher, equilibrium.
Last Updated on October 21, 2008 by Chuck Marunde