A home by a freeway is listed in the MLS, and the question is should you consider buying a home by a freeway?  I have two concerns on this subject that I think are relevant for buyers.  My first concern is the home by a freeway that is listed at the same price as a home in a quiet area miles from the freeway.  My second concern is the home near a highway that could become a home by a major freeway.
Little Home by the Freeway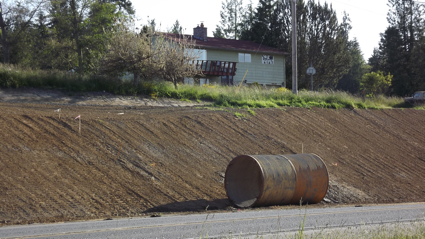 This photo shows current construction on the freeway between Sequim and Port Angeles.  What was a two lane freeway (Interstate 101) will soon be a four lane freeway.  This home was invisible from the highway for many years, sat well above the two lane noisy traffic with a large mound of dirt and a thick hedge of trees and vegetative growth sheltering it.  Suddenly this homeowner is looking down at the new freeway under construction from the back deck and from all the back windows of the house.  This home is no longer sheltered from the noise of traffic, and any thoughts of privacy in the back yard have gone poof.  Little home by a freeway is now little home no one wants.
Are homes by a freeway worth less than a home in a quiet neighborhood?  Absolutely!  Supply and demand prices such homes at substantially less value.  The surprise for me and so many buyers is that sellers often list their home by a freeway at the same price as a home a mile away in a quiet area.
Sweet Quiet Home by the Freeway
Noise is a factor for many buyers who are retiring to Sequim.  I did recently sell a home adjacent to the busy Sequim-Dungeness Road, and my buyers told me they didn't find it bothersome since they had lived near a Los Angeles freeway for 30 years.  Okay, but they are definitely in the minority of folks moving to Sequim who do consider a home by a freeway to be less appealing.
Last Updated on September 19, 2019 by Chuck Marunde