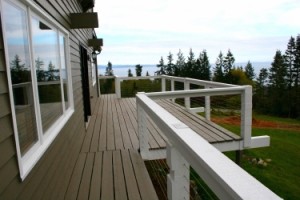 Today we ask a real estate agent who has been through 30 years of market ups and downs, a real estate attorney of 20 years, and an advisor to real estate investors for two decades this question, "If you were advising a buyer thinking about buying a home in this market today, what would be the three most important tips you would share?"   The answer is full of rock solid knowledge, experience, and wisdom.
Steve:   Chuck, we know the market has slowed down, but we also know that there are a number of people who are still shopping for a home in Sequim or in Port Angeles.   We are seeing sales of homes here every month, even during the slowest months of the winter.   Many people are not confident that they know exactly how to find a home in this market, and when they find it, they're not necessarily certain they know how to negotiate right now.   So, the question is, "If you were advising a buyer thinking about buying a home in this market today, what would be the three most important tips you would share?"
Chuck:   This is a very good question.   I learned as a lawyer that the answers you get are only as good as the questions you ask.   Here is what I see as the three most important tips in this market.   Use these three tips, and you are substantially increasing the likelihood that you will find the right home at the right price and that you will get the best possible deal.
I'm going to assume that our buyer (husband and wife) know what they want (for example, three bedrooms, 2 baths, an attached 2-car garage, at least 1,800 square feet, a newer home, at least one acre, Sequim school district).   You could consider this a pre-tip:   know what you are shopping for, otherwise we are all wasting our time chasing the wind.
The first key tip I would share is this:   Do your due diligence and find a knowledgeable, experienced, and trustworthy Buyer's Agent.   Listen, this is not an effort to sell myself right now.   Sure I'd like buyers to work with me so I can make commissions, but there is much more to this recommendation.   As a real estate lawyer I made some pretty good money because many buyers and sellers tried to do their "own thing" without sufficient knowledge or experience.   (Why do you think there are so many rich lawyers?)   A year and a half of litigation, a small wheel barrel full of money, and a lot of stress later and my clients proved to me over and over again the incredible wisdom in finding the best and most experienced professional out there.   He or she does NOT cost any more than the totally inexperienced or incompetent licensee who smiles nicely and smells good.   In fact, when I represent a buyer as their buyer's agent I cost them nothing, yet I bring them a lifetime of experience.   How cool is that?   So I strongly recommend that people take advantage of the experience and negotiating power a good Realtor can bring to the table.
The second key tip I would share is this:   When you narrow your search of homes down to one home, know precisely what to analyze and what to research on that home.   I'm reminded here of something many men can identify with.   If you've ever shopped for a used car, and if you know something about cars, when you find a model with the features and year that is a good possibility, you kick your due diligence into high gear by doing several things.   For example, when you test drive it, you are looking for any signs of problems, like the front end pulling to one side when you brake hard, any shaking or vibrating, signs that the transmission may have problems with jerky shifting or any clunking noises.   You may stick your head under the hood while it idles and while you rev the engine and listen to any pinging noises or any rough idling.   When you buy a house, you should also know what to look for.   There's a lengthy list of things to examine, and some of these items are deal killers because the cost of installation or replacement is just too prohibitive, and some existing home designs (or heating and air circulation systems) simply cannot be changed without major construction.   There are foundation and concrete issues, framing and roofing issues, electrical, heating, and cooling issues, drainage issues,   potential mold issues, septic issues, water well issues, easement issues, and much more.   Of course, if you make an offer on a home, you'll want a professional home inspection, but a home inspector is not your adviser on buying and cannot and will not advise you on all the issues you should be thinking about.   A buyer's agent can, if they know.
The third key tip I would share is this:   Negotiate like an expert, and believe me there are levels of negotiating skill.   Negotiating a $300,000 or $750,000 deal is not exactly like getting a bargain at a garage sale, and it's definitely not for beginners.   I love going up against an inexperienced or poor negotiator, because it's such a great victory for my clients, not only in the money they save, but in the management of the stress throughout the process.   There is so much to negotiating effectively, and this isn't the time or place to go on and on about how to negotiate like an expert, but let me make the point this way.   Negotiating effectively can mean $20,000 to $80,000 in your pocket.   Does that have your attention?
There's more to putting together all the details of a good purchase, but these are the three tips I would emphasize as the most important.   I could go on, but if anyone has questions they can always email me.
Steve:   Chuck, I know your readers will appreciate what you've shared here, and let me add something for our readers.   When Chuck answers questions like this, he really doesn't hold anything back.   What he shares is his heartfelt opinion and as he says a lifetime of valuable experience.   Thank you Chuck for sharing.
Chuck:   My pleasure.
Last Updated on March 14, 2009 by Chuck Marunde