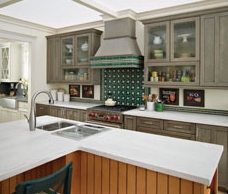 I recently sold a house to a wonderful couple from out of state.  They're very excited about retiring in Sequim, and there's no doubt they now have one of the most gorgeous water views in the county.  They've decided to do some upgrades in their custom home, including a new hardwood floor in the living room.  Of course, the danger of doing an upgrade is that suddenly you notice something else that should be upgraded because of your first upgrade.  So they've decided to have all the walls painted a color more suitable to match the color of the hardwood floor.
And then there are the kitchen counters.  The kitchen counters are a beautiful dark color, almost black, and because they are Corian, they are very hardy and last almost forever.  The countertops certainly don't need replacing, but my clients discovered something.  As we slid our hands across the surface of the Corian, we could feel a slight roughness.  Actually, it felt like small specks of dust had attached themselves to the surface of the countertop.  This same condition was on all the kitchen countertops.  You couldn't see it with your eye, but you could feel it.
Here's what we learned.  Corian is cut from large sheets and then custom cut for each kitchen design.  One of the great features of Corian is that when it is installed properly, the seams are literally invisible.  Long countertops become one single smooth countertop.  When Corian is installed, the installer is supposed to sand and buff the Corian until the surface is perfectly smooth.
Most homeowners will not know this, and apparently these countertops were installed in my client's home by the previous owners without the sanding and buffing.  Fortunately, the answer is to simply have a certified Corian installer sand and buff now.
Today there are so many different types of countertops, and each must be installed and maintained according to the manufacturer's specifications.  Be sure your home builder or countertop installer is following the manufacturer's specifications.  Of course, if you have a trustworthy and competent professional, you won't have to babysit.  By the way, for a local company with a great reputation for installing Corian and other countertops, I would recommend Quality Encounters.
Beyond installation, there is regular cleaning of your Corian surface.  The manufacturer recommends this:
Soapy water, ammonia based cleaners (not window cleaners as they can leave a waxy build up that may dull the surface) or commercially available solid surface cleaners will remove most dirt and residue from all types of finishes. Stubborn residue will require a little stronger cleaner.
You can see more of the Corian selection on the manufacturer's site at DuPont Corian, and you can look at a wide variety of products for your home, including cabinets, countertops, plumbing fixtures, appliances, windows, doors, and flooring at Sequim Custom Home Builder.
Last Updated on January 6, 2021 by Chuck Marunde