I spent a couple of days this week looking at land in and around Sequim with some out-of-state clients.  It was not only fun, but there is much to be learned from looking at land now in light of the history of land in Sequim.  In our peak year of 2005, we had a hundreds of lots on the market.  If I remember correctly, there were over 500 lots for sale in the county.  Developers and builders were subdividing land in 2005 with a lust that would have matched that of the gold miners in the 1897 Klondike Gold Rush.  As we all know now, some of those developers crashed hard.  And the prices of land in Sequim have come down dramatically as you can see in this comparison.
Prices of Land in Sequim Crashed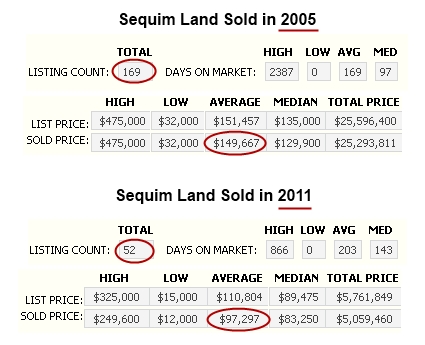 Land in Sequim at Basement Prices – Sort Of
In 2005 there were 169 lots sold in Sequim compared to 58 in 2011.  The average price of sold land in Sequim in 2005 was $149,667, and the average selling price in 2011 was $97,297.  But this doesn't tell the whole story. 
Land in Sequim Garage Sale Prices
I showed lots on Bell Hill, and there are some nice water view lots, but at extraordinarily high prices, like close to $300,000.  Then there are lesser lots with a peek-a-boo water view, or lots that sit down in a gulley with no view except the sky straight above.  These lesser lots are going for less than $50,000, but for $60,000 you can buy one heckuva lot in an open sunny area with a view of the Olympic Mountains.  This $60,000 lot was $130,000 just three years ago.  That's more than a 50% price reduction.  The seller's cost of developing probably means this seller will actually take a loss at this price.  For an extraordinary lot with a beautiful mountain view in an open area of fields and sunshine, this is why I call this a garage sale price.
You can look at all the land in Sequim currently for sale at Sequim Land for Sale in the MLS.
Housing prices are down for sure, but the price of land in Sequim is dramatically down from the peak of the market.