This Sequim land for sale is one level acre with a mountain view of the Olympics and electricity and telephone are already installed underground to the property.  And the mountain view is not hindered with electric and telephone wires and poles.  At $75,000 this is one of the best values on the market right now, and this is the kind of lot and location that will most likely sell quickly.  The good news is that there are three lots available.
Many retirees are looking for that perfect Sequim waterfront or water view property, but just as many want a gorgeous view of the Olympic Mountains.  After all, a mountain view is a fraction of the cost of a water view.  This photo (taken on a cloudy day) looks to the north and the mountains are behind, but frankly I couldn't capture the mountains on camera through the clouds. Photos of mountains in the MLS are often taken with a telephoto lens, which doesn't give you the real view.  The real view will be clear (if it's a sunny day) when you stand on this Sequim land for sale yourself.  At this price, this is one of the best lots in the entire Sequim and Port Angeles area.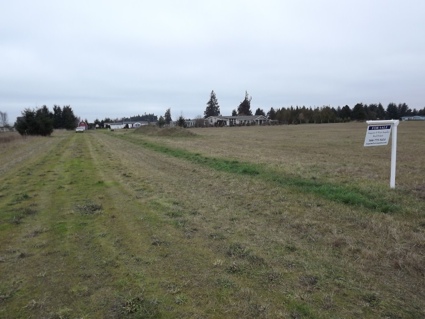 Sequim Land for Sale Ready for Your Home
Learn more about this Sequim land for sale at Vacant Land with more information and more photos.  By the way, you can purchase all three one acre lots for a discounted price.
Sequim Land for Sale in the Sequim MLS
To be fair and give you an opportunity to see comparable Sequim land for sale, I've put together a list of all the one+ acre lots in the same price range and above.  Here is the list: Sequim Land for Sale.
Last Updated on September 19, 2019 by Chuck Marunde