Local Sequim Author, Real Estate Broker and retired Real Estate Attorney Chuck Marunde did something which is a first in the publishing industry:  He gives away the audio version of his new book with QR Codes in the hard copy or the eBook version. The publishing industry typically prints a book and later may also produce an audio version of the book, but the audio version is another purchase, often a higher price than the hard copy.  What Chuck has done has never been done before in publishing.  He included a QR Code at the beginning of each chapter so a person could simply use their smart phone and download the audio of that chapter at no additional cost.  QR Codes are like the codes used at the grocery store, and when your smart phone scans it, it takes you to the download.  Smart phones can download free QR Code readers.  Once that application is downloaded and installed on your smart phone, you use your phone's camera as a scanner.  It's amazing technology.  If you have a smart phone, you can scan this QR Code in the left margin and download the audio of the book's Introduction.
QR Codes in Real Estate Book
Real estate marketing has changed, and Chuck Marunde's new book, The New World of Marketing for Real Estate Agents is available on Amazon.com for $14.95 or as an eBook download for $9.95.  The book has gone viral among real estate agents around the country, and has sparked some interesting discussions, because it challenges conventional thinking in the real estate business and focuses on placing "consumers at the center of the Universe," as Chuck likes to say.  He ads that, "Changes in consumer preferences, the real estate market, marketing methods, technologies, and the Internet have all facilitated the most dramatic changes I've seen in three decades in the business. Real estate brokers are going out of business all over the country, merging, and consolidating to survive. But the changes reveal much more about the underlying forces that are at work."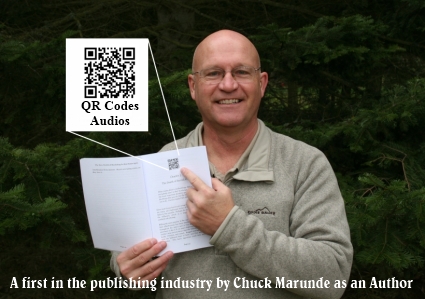 QR Codes and Technology
So much is changing, and marketing in real estate is changing.  These changes in real estate marketing are killing traditional business models. Bricks-and-mortar real estate brokerages that stubbornly refuse to bridge the gap to an entirely new business model will die a slow and painful death.
This is the great dilemma of being stuck, and being stuck with a real estate marketing model that doesn't work anymore is a crisis of major proportions for buyers, sellers, and their agents. Traditional brokers and agents who have operated within a traditional brokerage model for many years struggle to think in entirely new ways. What makes this especially difficult for so many is their discomfort with technology and the Internet. Some simply refuse to learn the technologies.
QR Codes and Smart Phones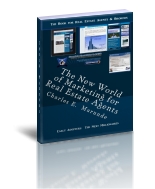 While Chuck's book is written to help real estate agents around the country, homeowners might find it educational and entertaining.  The book examines traditional real estate brokerage and explains why it is failing.  But the book also makes a strong argument for what the future real estate brokerage will look like, and how it will specifically help home buyers and home sellers.
Read more by downloading the eBook, which is in a pdf format so you can read it on your computer, on your iPad, or any eBook reader.  The New World of Marketing for Real Estate Agents is available as a download right here for $9.95.  If you have a smart phone, you can also download the audio version of each chapter.