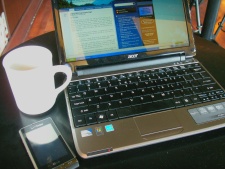 Time for a little fun, and time to laugh a little at my own profession and at myself.   Okay, I'm in a coffee shop.   I'm doing some work on my laptop, checking and answering emails, and writing some articles.   So imagine the humor in the following scenario.   I'm a Realtor writing on my real estate blog when a customer walks into the coffee shop.   Now I rarely pay attention to what other people say, but if they speak loudly and the words catch my ear, I can't help it.
I hear one of the employees making coffee say to a customer, "Oh, you're a Realtor?"   The reply was from an older woman whose health did not look good, and carried little enthusiasm, "Yes, I work for [so and so broker]," to which the young female employee loudly and enthusiastically replied, "I'm a real estate agent too!"
I laugh to myself, because one of my observations is that every Tom, Jane, and Mary got a real estate license because it seemed like an easy way to make money.   Does anyone not have a license?
I look around the coffee shop.   There's an old man with thick spectacles sitting two tables away, apparently reading the classifieds.   He doesn't move at all for minutes.   Has he died?   No, he turns to the next page.   I wonder.   Is he a Realtor?
A woman and a girl about 13 years old are sitting across the room at a little round table.   Is the little girl a Realtor?   No, I remember you have to be an adult to get a license.   I think.
Two bicycle riders stagger into the shop, all sweaty and obviously hot and tired.   Are they Realtors?   Could be, but I hear no dialogue on real estate issues emanating from their mouths.   But I do pick up some phrases, like "It's hell out there," and "a person could die in stuff like this," and "I don't know if I can make it."   Wait a minute, they are talking about real estate.   Maybe.
Finally, I pack up my laptop and head out the door, and as I'm walking past the shaded tables in front of the coffee shop, I hear three ladies talking.   I pause and listen.   I know it's impolite to listen to other people's conversations, but this is a coffee shop and they're talking about real estate.   One is saying, "You should get your real estate license.   It's easy.   Well the online course is no fun, and the test is a drag, but you can make easy money if someone writes an offer through you.   I don't have to work if I don't want to, but when my husband and I want to do something, I start trying to sell a house or find a buyer.   If I'm lucky, I pop a few thousand or even more.   You could do this.   It's easy."
Oh, how I seem to have gotten this whole life upside down.   I went to college, worked real estate   as a Realtor and then Associate Broker, and then went to law school to specialize in real estate, worked as a real estate lawyer for 20 years, and now I'm a real estate broker.   All that when I could have just been a housewife and taken an exam.   Silly me.   Well, live and learn, right?
Last Updated on August 1, 2009 by Chuck Marunde