The Seattle Space Needle is a short 55 minute drive and a 30 minute ferry ride from Sequim.  The Space Needle is at the Seattle Center with a park-like setting, convention and seminar facilities, and of course, restaurants and family entertainment.  While there today I could not resist taking this photo of children frolicking in the water fountain in the shadow of the Space Needle.  This water fountain cycles between shooting thousands of gallons of water high into the air and slowing down and stopping altogether.  When the fountain stops all the kids slowly walk toward the center, and then suddenly the fountain takes off and they all run.  The daring ones get wet.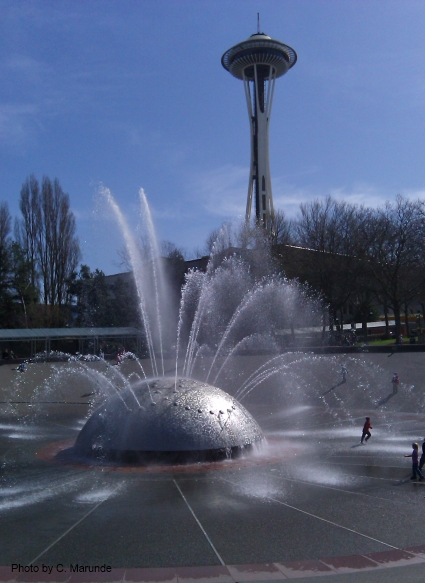 It was a sunny day all the way to Seattle and back to Sequim.  The ferry ride is always enjoyable and gives me a chance to unwind and relax, read or just walk the deck and watch sail boats and Northwest scenery.   In this photo below the ferry is leaving the dock at 2:30 in the afternoon.  Seattle is a beautiful city with culture, fine restaurants, and the Seattle Seahawks, the Mariners, Storm, and the Sounders.  The thing is I don't want to live in Seattle:  I just like to visit for a few hours or a day.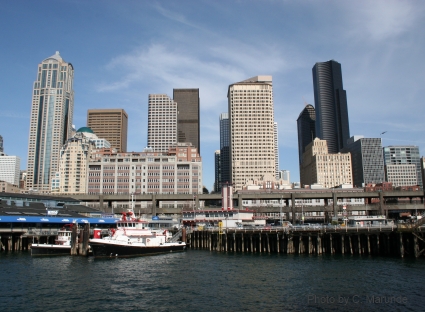 I attended a tech conference for Realtors.  I find it inspiring to rub shoulders with others like myself who feel the future of real estate is putting our clients at the center of the most powerful marketing and technology tools in the world.  It was a great day!  No, it was a fantastic day!
Last Updated on July 27, 2012 by Chuck Marunde