Sequim crabbing is one of the many recreational activities that endears Sequim to so many people.  It has been said that Sequim has more year-round recreational activities than any other American city.  That may be true, but one activity that many are passionate about is Sequim crabbing.
Sequim Crabbing by Locals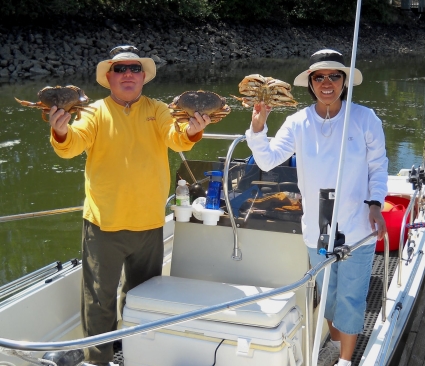 Sequim Crabbing Fun and Tasty
In this photo my clients and friends Don and Marilyn are showing what retirement for Don is all about.  Clearly Sequim crabbing is hard work.  And then there is that awful sun (and temperatures in the 60's and 70's), and the challenging marine navigation from one crabbing location to another, not to mention dipping tasty morsels into hot butter followed by a classy wine.  I think I'll send Don my condolences.

Sequim Crabbing Way Too Cool
Learn more about Sequim crabbing at Recreational Crab Fishing, the Dungeness Crab & Seafood Festival, and The Dungeness Crab.  How satisfying is it to look at these delicious crabs in the photo above and imagine the fresh ocean breeze and the salt water smell?  Not very, so I would urge you to come on down (as Bob Barker would say on the Price is Right) and enjoy some Sequim crabbing for yourself.

Last Updated on January 6, 2021 by Chuck Marunde