Sequim home builder offers estimates.  Long time Sequim home builder and Port Angeles home builder Rick Anderson of Anderson Homes, LLC has provided an easy online method to ask about the cost of building your retirement home.  Many people are planning to build their next home, but where does one start?  A great place to start is with an inquiry to the largest local home builder since 1981.  Rick Anderson has built over 400 homes and has what is almost certainly the highest customer satisfaction rate of any builder, bar none.  If you're thinking about building, be careful about builders who will say almost anything to get your business.  Be aware that it is real easy for competing builders to simply quote lower bids, and then gradually work the profits back into the contract with extras and change orders and surprises.  The reason I include this link to Rick Anderson is because I personally know he is honest and will provide accurate estimates.  Click on this image to go to Rick's online inquiry form.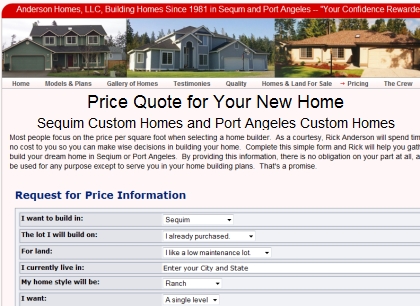 Who is the best Sequim home builder?  In my opinion, that would be Rick Anderson.  No one is close when it comes to quality, service, and the lowest price per square foot for your home.  You'll find builders who will build for less per square foot, some who will build quality homes, and some who provide a level of service that almost matches Rick Anderson's, but you won't find another builder who scores so high on all three.
Rick Anderson can be reached at 360-452-4641.  Call him and make an appointment to discuss your home plans.  I think you'll be glad you did.
Last Updated on September 2, 2019 by Chuck Marunde