Sequim homes are selling in what is the hottest market in Sequim's history going back decades. Sequim homes did sell in larger numbers back in 2005, but the reason this is a hotter market is because our inventory is so low. The short supply and the strong demand has created a seller's market and the toughest competition among buyers I've seen in the Sequim real estate market.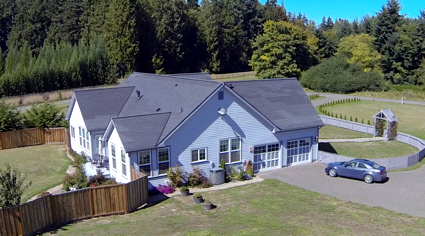 Sequim Homes and a Horse Ranch
I recently sold this five acre horse ranch at full listed price. The listing describes this ranch like this, "The finest horse ranch between Sequim and Port Angeles on 5 acres, with 5 horse stalls and 5 horse runs, constructed with ground cover and layered with gravel to keep the horses out of the mud + a barn. The main home is a custom home with granite kitchen countertops, a propane cooktop, ceramic tile floor in kitchen and wood laminate in dining room." There's a second home on the property that brings in $700 in rent, and who doesn't love old barns, especially a 1941 barn in perfectly maintained condition? There's a lot more to this property, but one thing for sure, it is the perfect little horse ranch for anyone serious about their horses. This property sold for $575,000, and there is no other horse ranch like this in the inventory.
Sequim Homes Selling Fast
The challenge buyers are having lately when it comes to looking at Sequim homes is first finding the ideal home, and second getting an offer submitted before someone else does.
This might sound a little desperate, but a buyer should never feel pressured to make desperate decisions. This is not a time in your life to make anything less than careful and wise decisions. This may be the most challenging time in this market to look at Sequim homes and buy one, and with so much at stake, I would recommend you find a wise real estate broker with experience and integrity. I promise you, you will not be disappointed if you hire me as your buyer's agent. I am sometimes a little surprised at how some buyers simply hire any Tom, Dick, or Jane to represent them in one of the most important decisions of their life. Why would anyone do that with so much money and so much at stake? If you can find someone better equipped to represent you than me when it comes to Sequim homes, by all means, hire him or her. But do yourself and me a favor, and do your due diligence on agents BEFORE you hire one, including me. Enough said.
Last Updated on September 6, 2019 by Chuck Marunde