Buying a home or land in Sequim or Port Angeles includes a lot of options on the size of your lot.   This is an agricultural area that has grown slowly, and as a result, lots have been created from farmland that was gradually subdivided.   City lots can be 50 feet by 150 feet, with many variations, and county lots can range from the size of a city lot to 1 acre to 2 acres to 5 acres to 10 acres or more, and everything in between.
This photo is an example of Sequim land in Happy Valley, a 4.6 acre parcel that could be divided into two 2.3 acre parcels.   It's a great valley view and quite peaceful.   Click on this image for more photos.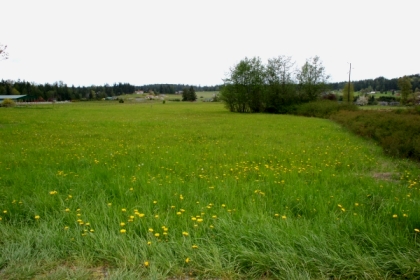 It's nice to have the option of having a large yard, a private orchard, or just fields that can be mowed, left au naturale, or grazed by horses, cows, or sheep.   It's also nice to have the option of having no required maintenance or landscaping work at all.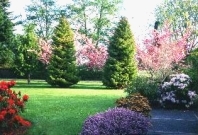 Here's an example of the gorgeous yard of a Sequim home, one of many like it that is beautiful but also requires a lot of attention.
Then you have water view homes, which also come in just about every size and architectural design you can imagine.   This house with a deck faces an incredible water view with the lights of Victoria visible on a clear night, and sits on a 3.19 acre parcel.   It's a hop and a skip to a public boat launch. Click on the photo for more photos.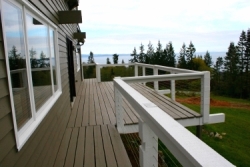 The best way to look at real estate is to literally drive around and have fun looking at it, but you can prepare yourself best by filtering through the MLS online to narrow down what you will look at when you get here.   For a great free MLS search of all homes and land in the area, simply go to Sequim and Port Angeles MLS search.
Last Updated on July 7, 2009 by Chuck Marunde