Sequim lots are selling.  Chuck Marunde is pleased to announce the sale of another property, a gorgeous lot with a panoramic water view of Sequim Bay and the Strait of Juan de Fuca.  While it is true that building new homes has slowed in this real estate market, many retirees are still buying a lot and hiring a Sequim home builder to build their custom home.  This photo is taken from this lot with Protection Island in the middle.
Sequim Lots – Sold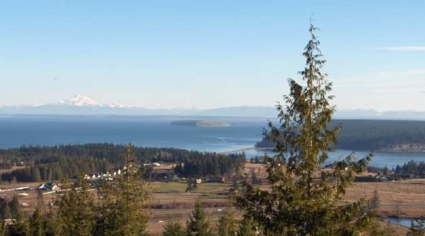 Sequim Lots
There are 465 Sequim lots for sale, ranging in price from $28,000 to $995,000 (not counting a few subdivisions for sale) with an average price of $142,587 and a median price of $129,000.  The average listing time known as DOM (days on market) is 427 with the longest one being 1,631.
When I narrow the search parameters down to vacant lots with salt water views, we only get 17 Sequim lots.  It's hard to believe we only have 17, isn't it?  Perhaps some listing agents have neglected to check the box for "salt water."  While that may be true for a couple of listings, it still is amazing we only have less than two dozen salt water view Sequim lots for sale.  The average price of a salt water view lot is $379,105, and the median price is $359,000.
So when I tell you the lot in this photo just sold for $100,000, you might wish you had purchased it if you are looking for a water view lot.  Some of my clients who are looking for this kind of water view want a larger parcel with more acreage.  This lot is a small lot in a nice development.  It is 129 feet x 132 feet.  Still, this same lot and surrounding lots sold for as much as $250,000 or more when the market was at its peak.
Sequim Lots
You can look at Sequim lots and all the listings in the MLS at SearchSequimMLS.com.  You'll see pull down menus to narrow your search and a lot of options to filter through the entire Sequim MLS.  I do have a video which will help you use this online search tool efficiently, and you can watch that video at Sequim MLS Video Guide.
You can look at Sequim custom home builder Rick Anderson's website for home plans and photos as well as testimonies at RickAndersonHomes.com.  If you're looking at Sequim lots, I'd love to help you as your Sequim Buyer's agent.
Last Updated on September 4, 2011 by Chuck Marunde