Short sale fraud is mortgage fraud when a homeowner applies for a short sale with their bank and misrepresents their assets in their hardship letter and the bank reduces the balance of the loan in reliance on those representations.  A Michigan Supreme Court Justice has been accused of committing short sale fraud and her Florida home is now subject to seizure. 
Short Sale Fraud by Judge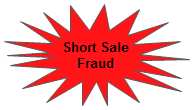 In 2010, Hathaway and her husband, Michael Kingsley, submitted a hardship letter to ING Bank seeking a short sale on their home in Grosse Pointe Park, a Detroit suburb. The couple did not disclose that they had put their home in Windermere, Fla., in the name of Kingsley's daughter, the government said.  After the short sale in Michigan, which erased $600,000 in mortgage debt, the Florida home was transferred back to Hathaway and Kingsley, according to the lawsuit, filed Monday.  "Hathaway and Kingsley systematically and fraudulently transferred property and hid assets in order to support their claim to lNG that they did not have the financial resources to pay the mortgage on the Michigan property," the government said.  [Source:  Huffington Post]
Short Sale Fraud Problem
Many homeowners around the country are struggling financially, and dealing with a home that is upside down.  They owe more than it is worth in this real estate market, and the opportunity to apply for a short sale to get the mortgage reduced could solve a lot of financial problems.  The Hathaway case points out that it is short sale fraud or mortgage fraud if you misrepresent your financial resources to get the mortgage reduced.
I've written several earlier articles about the short sale process in this market, including:
How to Buy a Short Sale
Sequim Short Sales More Than Chaotic
Should I Buy a Short Sale?
Short Sale, Deed in Lieu, or Foreclosure
Buyers Frustrated with Failure of Sequim Short Sales
Avoid Short Sale Fraud
A short sale is a very complex transaction, and short sale fraud can be committed by good people who do not intend to commit fraud.  Avoid short sale fraud by working with a professional who understands the process.  Remember that pleading ignorance is no defense, and arguing that you relied on your Realtor's advice is also no defense for fraud.  If you are selling a home and you believe you need to do a short sale, make sure your Realtor knows the legal short sale process and how to protect you from short sale fraud.
Last Updated on November 26, 2012 by Chuck Marunde