Steam showers convert an ordinary bathroom into a little Heaven of relaxation and health.  I love the way architecture has been evolving to make homes more functional and more enjoyable.  Remember the days when architects and builders put laundry rooms in dark, unfinished basements?  Thank God we got away from that.  Today modern custom homes have a gorgeous laundry room off the kitchen or near the master bedroom with nice countertops and cabinets and a window!  For many years kitchens have been getting upgrades and improving in both function and beauty.  Alas, bathrooms have come along as the third major upgrade in homes today, and these steam showers are one of these latest upgrades.
Steam Showers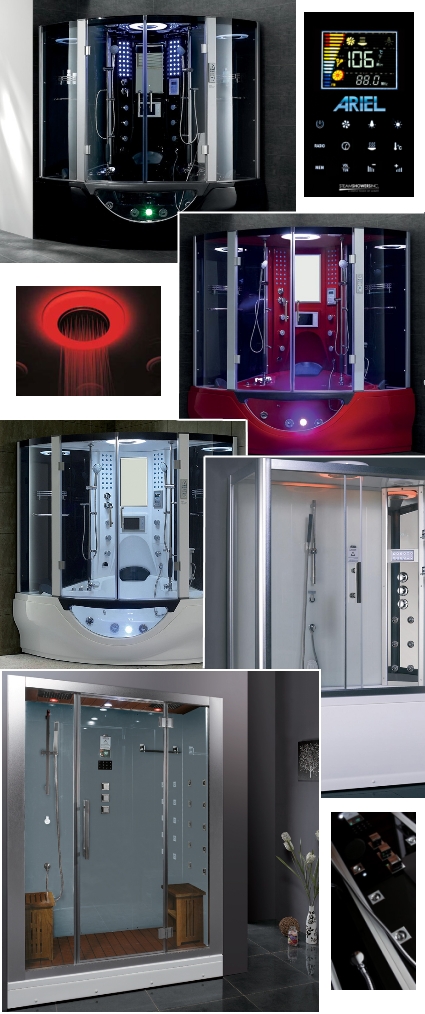 Steam Showers
If you think back to how architecture has changed over the past four decades, you'll recall how bathrooms have evolved.  Remember bathrooms used to be considered nothing more than functional rooms?  People were not expected to spend a lot of time in a bathroom.  Of course, when makeup was invented, that all changed.  Actually, that's when vanities became popular with large mirrors and many light bulbs around the mirror, and portable vanities were often found in the master bedroom.
Then in the 1960's the next big evolution in bathrooms was the double sink and large mirror.  Shortly thereafter the separate toilet room became a fad, and a separate bathtub room added a luxury touch.  Bathtubs became more focused on luxury with jetted tubs and large tubs approaching the hot tub concept.  Bathrooms have been getting bigger and bigger and the beautiful custom home of today has a large master bedroom with a gorgeous roomy master bath.
Steam Showers
Luxurious steam showers are a continuation of this trend of making our homes more comfortable and more enjoyable in every way.   To look at more of the options for steam showers, take a look at Steam Showers.  For a local Sequim Custom Home Builder who has been installing steam showers in his custom homes, see Rick Anderson of Rick Anderson Homes at Sequim Home Builder.

Last Updated on January 6, 2021 by Chuck Marunde