The Discovery Trail is one of the best walking, jogging, and biking trails in the Northwest, and it is centered in Sequim. It stretches for many miles in either direction and extends far to the west side of Port Angeles. If your retirement plan includes regular exercise, the Discovery Trail is perfect for any level of exercise. I have been a jogger for over four decades, but recently I decided to try something that might be easier on my body, and so I bought this bicycle, and I am loving it.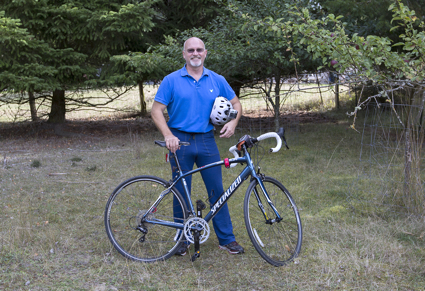 Discovery Trail Bicycling
As I ride almost daily, I'm reminded of how much of a whole body workout you can get on a bicycle. Yes the legs are getting a workout, and the lungs too, but the abdominals and shoulders are getting it too. I have two sons who became professional athletes, one as a strongman who traveled the world competing, and one as a mixed martial artist who fought in the UFC. I wouldn't recommend bike riding to build upper body strength for my sons, but as we get older, we aren't exercising like we did in our 20's. Vigorous cardio exercise and moderate muscle work on a consistent basis is very beneficial.
Discovery Trail Exercise
Combine regular exercise, like riding a bicycle on the Discovery Trail, with organic food from Sunny farms or your own vegetable garden, and eliminate most junk foods, and Voila! Health and happiness forever. Sort of. If you haven't walked or ridden a bicycle on the Discovery Trail yet, it's definitely worth doing. It's not a high traffic trail, and on a nice sunny day (or not), communing with nature is very rewarding.
Last Updated on September 22, 2019 by Chuck Marunde