Is there underwater photography in Sequim?  Yes there is.  I've had the privilege of representing Marc Hannigan (and Megan) as a Sequim Buyer's Agent as they purchased their Sequim home, and I've learned that scuba diving and underwater photography in Sequim Bay and Discovery Bay is popular, at least for the passionate ones.  I've said many times that Sequim attracts some of the most incredible and gifted people on earth.  I give you Marc and Megan.  Marc's underwater photography is amazing, and to prove it to you, he was kind enough to give me permission to share some of his work from his Galapogos and his IndoPacific series.  I hope as he gets settled in Sequim, he will soon share his explorations of Sequim and Discovery Bay.
Underwater Photography in the Galapagos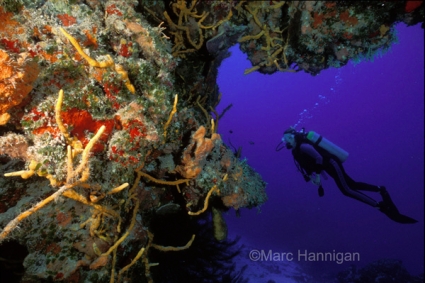 Megan Reed Negotiating a Reef
"As the currents bring in nutrients to drive the food chain, pelagic predators follow to complete it.  Your head needs to be on a swivel because everywhere you look you see something amazing.     Apex predators like Orcas are common along with Hammerhead, Galapagos, Silky, and White-tip sharks.  Whale sharks meander by amid schools of Hammerhead sharks while pods of dolphins cruise just below the surface.   Manta and Eagle Rays, schools of Jacks and Barracuda, the occasional Yellowfin tuna or grouper, are present on almost every dive.  Large gatherings of docile White-Tipped Reef sharks rest quietly on the sand waiting for night to turn from Dr. Jekyll into Mr. Hyde.  At the end of the day as you try and bleed off some of the adrenaline, you look back in amazement knowing that what you have just seen is a treasure unique in all the world and a true wonder of nature."  Read more and see more of Marc's stunning underwater photography at KelpFat.com.
Underwater Photography and Danger Everywhere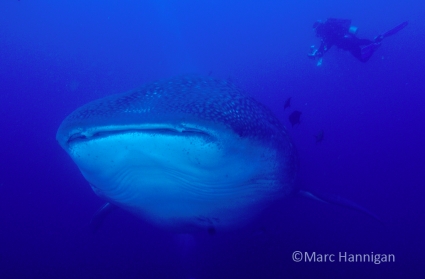 Underwater Photography Surreal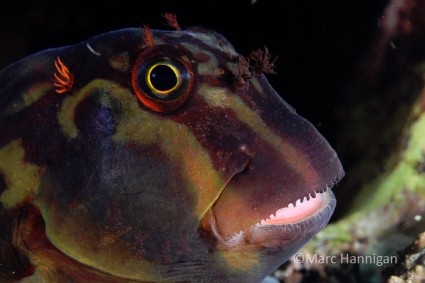 Imagine fending off an aggressive shark with your underwater camera!  Marc's stories tend to evoke a latent fear, but with a passion for underwater photography, Marc has faced his fears.  I recommend checking out his website at KelpFat.com.

We certainly are delighted to welcome our new friends Marc and Megan to Sequim.  I am certain they are going to make many good friends here, and among other things, Marc certainly has impressed me with his underwater photography.
Last Updated on December 13, 2012 by Chuck Marunde