This article is written to home buyers like you. You've been planning to retire in Sequim and now you're looking at homes online, doing some research on the Internet about Sequim, and you're anonymously peeking at a few real estate brokers' websites. You've even looked over a few of their resumes. You're still in the planning stage. You're not worried about making every decision with absolute perfection, but you definitely don't want to make any bad decisions, especially at this point in your life. Below is my graphic of "One Chance to Get 4 Things Right." Enlarge this graphic by clicking on it, and you can read the detailed article at Retire in Sequim.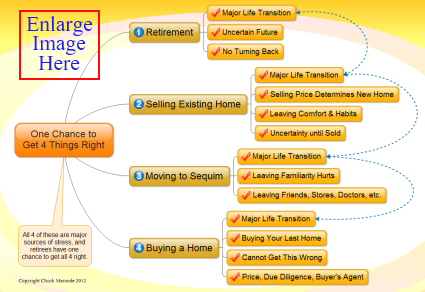 Who is Watching Out for Home Buyers?
The challenges you have as you transition to Sequim are not insignificant. But you can only do so much. You can only know so much. You may not have all you need to make wise decisions and avoid every possible mistake. After all, you've been a professional in your own area of expertise, which is probably not real estate. So what do you do? You do what most home buyers do–they hire a real estate broker they trust. But did you know . . .
Home Buyers Beware
Did you know that online MLS sites like Zillow have their own profit center, and you are not their client, nor are you their priority. Many other MLS sites are not getting accurate source data, and you could be looking at inaccurate information on a home. Many online MLS opt-ins will connect you with a real estate broker or a mortgage broker, but that is not because that person is necessarily the most knowledgeable, the most professional, or the most honest. It is only because they are paying to show up on that site to capture leads . . . leads like you. If you follow the money, you might be surprised how often your interests are low on the priority list of many you do business with as you go through the process of searching for a home, hiring a real estate broker, and all the other parties involved from the offer to closing. There are so many traps for the unwary buyer, it would take a book to list them all. (Actually, I've written that book, but this is intended to be a short readable article.)
So my question to you as a buyer is, "Who is watching out for you?" As I said earlier, you can't know it all when it comes to real estate transactions, so who do you trust with your money, and who do you trust to help you with such major decisions? When it comes to buying your next home, do your due diligence on the agent you hire.
Last Updated on September 6, 2019 by Chuck Marunde