A Sequim Referral Broker is an important resource for out-of-area real estate brokers who have clients in the Sequim area. Chuck Marunde is the preferred Sequim Referral Broker for many brokers from Seattle, Tacoma, Bremerton, Silverdale, Bellingham, Olympia, and from California, Florida, and many other states. Why are so many brokers referring Sequim clients to Chuck Marunde?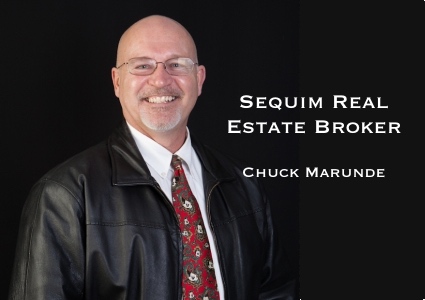 What Do Brokers Look For in a Sequim Referral Broker?
If a broker is going to refer a client to a Sequim Realtor, they definitely want someone who is knowledgeable, experienced, competent, courteous, and available. But they also want someone who is honest, has integrity, and is professional. While all of these qualities sound like obvious and basic qualities in a Sequim Referral Broker, most people might be disappointed to learn that it is not easy to find a Realtor with all these qualities.
The primary reason Chuck is a popular Sequim Referral Broker is not hard to understand when you look at his background. He started in real estate sales almost 40 years ago, practiced real estate law for 20 years, has been an adviser to real estate brokers for over two decades, has over 2,000 articles online specifically for Sequim buyers, has many videos produced in his video studio specifically for Sequim buyers, and has written many paperbacks and eBooks specifically for Sequim buyers.
Chuck is the only Sequim Realtor who has created all this content and a marketing system that reaches out to buyers all over the United States. And Chuck is the only local Realtor who has a three dimensional virtual tour camera with nine lenses, a stable of the best digital DSLR cameras, lenses, and lighting equipment, and Chuck is the only local Realtor who is registered as an FAA drone pilot with the experience to take professional video and edit it to Hollywood quality.
Chuck also has an exemplary track record. He was the No. 1 selling Sequim broker for 7 consecutive years for single family homes above the price of $200,000. He also received the prestigious Five Star Real Estate Agent Award, given to only a handful of Seattle area brokers. 
As a Sequim Referral Broker, out-of-town brokers are very happy to find Chuck, because he has everything they are looking for in a local broker. He has the professionalism to make them look good with their client, and he is trustworthy so they know they'll get paid a referral fee at closing.
Sequim Referral Broker for Many Different Brokerages
Here's an amazing fact. Brokers from many different companies refer clients to Chuck Marunde, even companies that are part of a national brand. Keller Williams brokers from all over the State of Washington refer clients to Chuck regularly, but so do brokers from RE/Max, Windermere, C21, John L. Scott, Exit Realty, Adamas Realty, EXP Realty, Coldwell Banker, and some boutique firms, too.
Chuck Marunde is known for answering his own phone. Can you imagine that? If he doesn't answer it (because he's with a client or talking to another client), he actually returns calls promptly. Chuck only has one phone number on everything so he can be reached. If you are a broker who needs a Sequim Referral Broker, call or text Chuck Marunde at 360-775-5424. Or you can email ChuckMarunde@gmail.com. Now you know who to call for your Sequim Referral Broker.
Last Updated on September 1, 2019 by Chuck Marunde