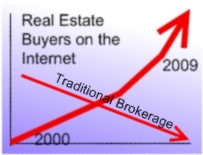 Sequim real estate brokers and Port Angeles real estate brokers are certainly facing many of the same struggles that brokers are facing all over the country, and Traditional Real Estate Brokerage is rapidly becoming a business model of the past. Why?
Let's face it, and we all know this, everyone is moving to the Internet for almost everything.   Real estate agents can't afford the expensive advertising of print newspapers, but print advertising just isn't pulling in the clients anymore either.   Because consumers no longer want to read stale news, pay newspaper subscriptions, and because businesses are not paying for expensive and ineffective advertising, print newspapers are going out of business across the United States.   And brick and mortar real estate offices are not what impresses clients.
This tidal wave of change that has been sweeping the nation is literally forcing real estate brokers to ditch the old business model, because they are getting sucked into a black hole of financial disaster.
Imagine being forced to close 11 real estate offices!   That's exactly what RE/MAX Dolphin Real Estate did. "This is not a geo-centric business anymore. The office has become less of a focus,' said Allan Bernardi, broker and chief executive officer of RE/MAX Dolphin. 'Technology has reduced the need to get the client into the office. You need to go where your clients are.'"   Read Mobilizing the Real Estate Office.
Sequim & Port Angeles Real Estate, LLC has been on the cutting edge of technology and the Internet, and we are pleased to announce that we are the largest real estate Internet brokerage in the county.   We're not sure, but we may be the largest private solely owned Internet broker in the State of Washington.   All that would not mean much, except we are also built on a foundation of professional competence, knowledge, and integrity.   Chuck Marunde started in real estate 30 years ago, spent 20 years as a real estate lawyer, and now focuses that experience on real estate for buyers and sellers in Sequim and Port Angeles.   "We give clients more free information on the Internet than any other competing broker on subjects like buying and selling, the specifics of a transaction, negotiating the best price, building your own home, market prices and charts, analysis, MLS information, and much more–all free for our clients and all those who just need the information," says Chuck Marunde, broker and founder.
Check out our sites:   SequimPortAngeles.com and SequimRealEstateNews.com.
For the hottest new online newspaper in the area, see Sequim-News.com.
Last Updated on March 9, 2009 by Chuck Marunde