Chuck Marunde is pleased to announce another Sequim home sold.  Today a beautiful Sequim home sold after being on the market for a long time.  Some homeowners have taken their homes off the market during the winter months, but my argument is that buyers are arriving and asking me to help them find a home.  Sometimes the timing for a buyer means they are looking and ready to buy in November, December, or January.  The y may have retired or sold their home, but I am representing many buyers looking for and qualified to buy nice homes in Sequim.  Homeowners who want to sell their homes should not take them off the market.  They might miss the one buyer that comes to town during this time.
Sequim Home Sold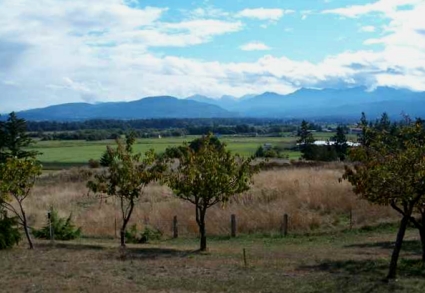 Sequim Home Sold in Winter
This Sequim home has a nice panoramic view of the Olympic Mountains looking across the Sequim valley to the mountains on the south side of Sequim.  This photo was take earlier, because believe it or not, Sunny Sequim is raining today.
Sequim Home Sold in Great Neighborhood
One of the great attractions to Sequim for retirees are the great neighborhoods.  We have traditional neighborhoods like Sunland or Bell Hill, and we have many developments with larger sized lots, from a half acre to 20 acres and more.  One comment I get from clients  all the time is that people in Sequim are so friendly.  While looking at homes my clients often meet neighbors, and it is true that people in Sequim are friendly and the kind of people you would love to have as neighbors.
"I love representing buyers and helping them find the ideal home and negotiate the best possible price, and that's what we did with this home," says Chuck Marunde.  Another Sequim home sold by Sequim & Port Angeles Real Estate, a branch office of eXp Realty.
Last Updated on September 5, 2011 by Chuck Marunde