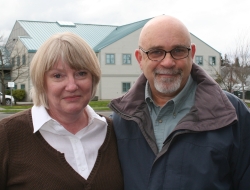 Sequim homes are getting a lot of showings lately.  Buyers are arriving from around the country and looking for their retirement home.  I wrote about this some months ago, and it happens every spring in Sequim.  Of course, all of us were watching carefully to see how this recession would effect the buying market here, and the good news for sellers is that people are still retiring in Sequim from all over the country.
I'm very busy working with buyers, all of them from outside the area.  One of my listings sold last month, another one of my listings sold last week, and I sold a lot last month and another house this week.  All of these buyers are retiring to this area.   I also received an offer today (for an amount I cannot disclose at this time) on a listing I have on a custom built home on five acres fenced for horses with a  private trail to the beach.
What are the price ranges with these sales?  $229,000, $395,000, $100,000, and $232,000.  The undisclosed sale is just under $399,000.
It is apparent that buyers are making their move now in these spring months and not waiting for the  economy and  the real estate market to prove that the recovery is already here.  Of course, the self-fulfilling prophesy with the belief that we are in a recovery may itself spur the recovery.
Many of my buyer clients are telling me they are simply not going to put their lives on hold anymore and wait for certainty before they make their move.  They have been planning to move to Sequim for a long time, and they understand that interest rates are going to go up at some point, and they are telling me, "We aren't getting any younger."
Whatever reasons buyers have for moving to Sequim to buy their retirement homes, I am pleased that so many are choosing to work with me as their Sequim buyer's agent.  I am grateful for the privilege of helping clients with such an important decision.
Last Updated on July 27, 2012 by Chuck Marunde