Sol Duc Falls are a national treasure in the Olympic National Park.  The falls are famous in photographs.  Frankly I always wanted to take my own photo of the falls, and so today I did.  It was a gorgeous sunny day in Sequim, and I could not stop dreaming lately of the picturesque river and falls in the Olympic National Park.  If you've hiked these mountain trails, you know how beautiful it is up there when the sun is out.  Today was about 82 degrees, and the mountains beckoned.  I heeded the call.

Sol Duc Falls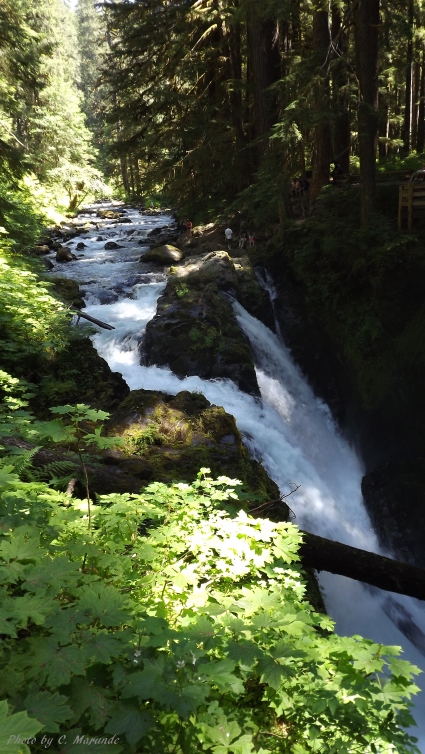 Sol Duc Falls a One Hour Drive from Sequim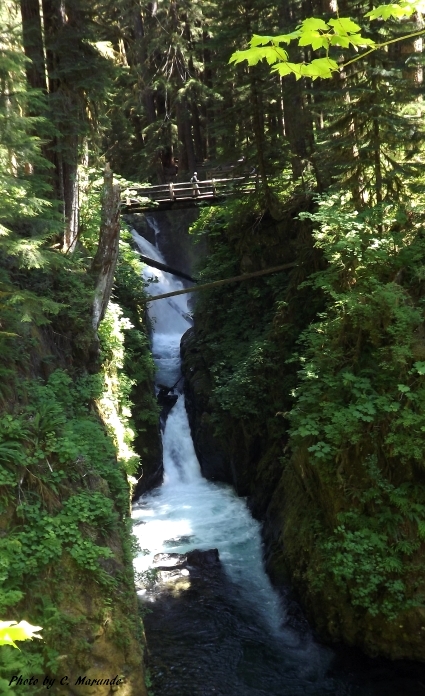 Sol Duc Falls an International Tourist Attraction
As I walked up the trail to Sol Duc Falls (an 8 tenths of a mile hike), I passed people from all over the world.  I made a few humorous observations.  Japanese people smile the biggest and both parents greeted me as I passed by.  Their children remained silent as they passed.  The French pass without greetings and they tend to look downward as they pass.  Americans from New York tend to greet you with a grating voice, and you think maybe they are going to swear, although they seem happy.  Alaskans walk the trail with a comfortable stroll as if they are at home in the woods.  Montanans look like they're packing.  All in all, everyone on the trail seemed to be having a great time.
The weather was fantastic.  The sun shown brightly with beams of light shooting down through the thick old growth forests and moss.  The temperature was 75 degrees on the trail in the shade.  What a fantastic hike this turned out to be to Sol Duc Falls.  This is just another reason to retire in the Sequim area–Sol Duc Falls.

Last Updated on August 5, 2012 by Chuck Marunde