Sequim tides and particularly when high tide will occur can be extremely important information whether your work depends on knowing the tides and the weather, or you're a Kayaker or sailor or beach hiker.  Of course, all this data is available on websites, but the good news is that tide charts are now available on your mobile device, including your iPad.
Sequim Tides on your iPad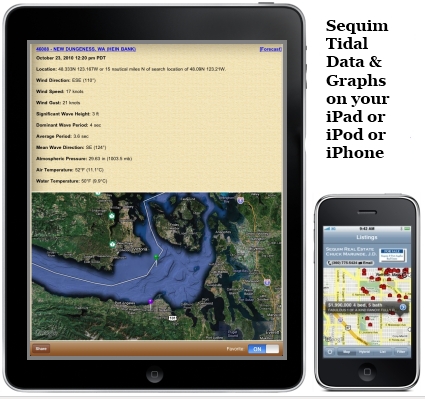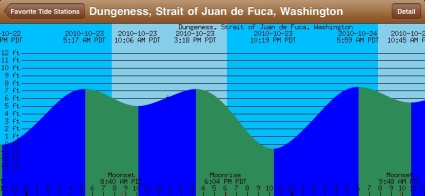 Sequim Tides Buoy Data
This iPad application is called "Buoy Data" and as you can see, it offers detailed information as well as a nice visual of Sequim Tides, and a great map, which will show the precise location of the NOAA buoys where all this technical equipment is located and transmitting.  You can literally pull up any buoy data in the NOAA data base from anywhere offshore, and many ships participate in collecting and transmitting data from their location.  Ship data shows up, identifies the ship, and gives you charts of detailed information.  This program also shows you the precise location of the ship and exactly how far the ship is from your current GPS location.
Sequim Tides and Weather
Sequim weather is always interesting to look at, and especially as we go into the fall season with potential storms. Today the weather report includes some interesting but potentially important trivia.  Waves on the west end of the Olympic Peninsula may reach 25 to 30 feet today.   Here are some more Sequim weather links:
Radar Views
Local Satellite
Marine Forecast
Weather Trip Planner
I highly recommend the Sequim Tides iPad application.
Last Updated on January 6, 2021 by Chuck Marunde