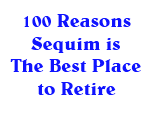 We continue our 100 Reasons Sequim is the Best Place to Retire with this third edition, reasons 51 through 75.  Sequim retirees have 100 reasons why they moved here and why they love living here.  Actually, they have hundreds of reasons, but we've narrowed that down to a readable 100 reasons Sequim is the best place to retire.  Don't miss reading the other reasons with the links below.
Sequim has several private airports with homes and hangars for pilots.

Sequim has many homes on golf courses for passionate golfers.

Sequim has 3 golf courses.

Sequim has one of the driest golf courses on the west coast.

Sequim has many 100 year old barns still standing.

Sequim has a Casino with Shows and Entertainers.

Sequim has an Aquatic Center for indoor year round swimming and exercise.

Sequim has Master Gardener club and private gardens.

Sequim has Carrie Blake Park with walking lanes, ponds, pines and a band shelter.

Sequim has a new dog park, because everyone in Sequim has a dog.

Sequim has the famous Roosevelt Elk Herd occasionally in town.

Sequim has geese, swallows and yellow finch in spring.

Sequim sometimes has snow in the winter.

Sequim has downtown hanging flower baskets on light poles in summer.


Sequim has an uncrowded, clean Costco, Home Depot, Walmart and a coming soon a Fred Meyer.

Sequim has a Saturday Farmers market with fresh produce, arts and crafts.

Sequim has high speed Internet, cable and satellite.

Sequim is politically balanced evenly.

The Sequim economy is stable with so many financially solid retirees.

Sequim has a stable real estate market.

Sequim has very few foreclosures.

Sequim is uniquely positioned off the busy metropolitan superhighways but only an hour from a major mall.

Sequim is a pleasant 30 minute drive from one of the Northwest's deepest lakes, Lake Crescent at 1,000 feet deep.

Sequim is a short distance from some of the best hunting and fishing on the Olympic Peninsula.

Sequim is well connected with the rest of the world since the Internet has eliminated both time and distance for us.
Sequim is the Best Place to Retire
Read the first 25 reasons Sequim is the Best Place to Retire and read 26 through 50 reasons Sequim is the Best Place to Retire.
Last Updated on December 21, 2019 by Chuck Marunde