How about that Sequim MLS?  Sequim and Port Angeles are currently stuck with two multiple listing services (MLS). The Olympic Listing Service (OLS) has 100% of all local MLS listings in it, which is to say that all Sequim and Port Angeles agents are members of the OLS.
UPDATED JANUARY 2021: You can read this 2017 article for some history on this subject, but I recommend you also read the most recent article at: NWMLS v OLS.
Sequim MLS System
The second MLS is the Northwest Multiple Listing Service (NWMLS), and it has been the primary MLS for King and Pierce Counties and many other counties for years. As shown in the graph, a smaller percentage of local agents are also members of the NWMLS.
Searching the Sequim MLS?
When buyers are searching the Sequim MLS or the OLS, which system do they use? That depends on the site they are using to search the MLS. If they are using a site with the NWMLS IDX data feed, they are not seeing all of the listings for sale here. If they are using a site with the OLS IDX data feed, they are seeing 100% of the listings.

But buyers may not know this as they are doing their search. Online MLS searches that rely upon the NWMLS always have this logo by each listing.
Buyers should make sure they are using an MLS search that includes 100% of the local listings, not just the estimated 67% of local listings in the NWMLS. [There's much more technical analysis involved in comparing the two systems, because they use different fields and compile their data in different search and reporting methods.]
I am a member of both services, although not long ago I felt that being a member of the NWMLS made no sense. Why be a member of a second MLS, pay additional monthly dues (not to mention a $500 sign-up fee for a broker), and have to input all my listings twice, when only the OLS has all of the listings in it? When I do a comparable market analysis (CMA) to arrive at fair market value, it must be done only in the OLS, because it would be incomplete in the NWMLS. Market reports using only the NWMLS would be incomplete for this market.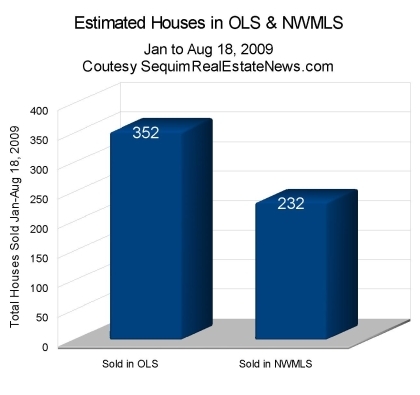 I finally decided to be a member of both so I could give my clients the greatest possible exposure for their listings, and so I could reach as many possible buyers on the Internet as I could. In addition, it seems clear to me that the future of the Sequim MLS is the NWMLS. I will be glad when we are all on one MLS system.
As a practical matter, even though the NWMLS does not include all the local listings, the NWMLS is far superior to the OLS as software and much more powerful. It has much greater usefulness to agents and much more back office support, including a full time attorney.
For clients who want to search 100% of the listings available, I suggest using my Sequim MLS search (it is also the Port Angeles MLS), which does include 100% of all available homes for sale listed by all agents in Sequim and Port Angeles. Search the entire Sequim MLS and Port Angeles MLS.
[For-Sale-By-Owners (FSBOs) are in neither MLS, and the majority of potential buyers are not searching the private FSBO sites, which means FSBOs are left out of the loop almost entirely for buyers.   FSBOs are completely left out of the massive number of searches that are done through these MLS data feeds on hundreds of websites that host the IDS data feeds.   These data feeds are not only on almost every agent's website, they are also pulled into all the major real estate classified services and real estate portals, such as Realtor.com and Trulia.com.   Sellers do not generally understand all of the back office technical and Internet marketing issues involved.   There is much more to getting a home effectively marketed on the Internet than most people realize.   Even real estate agents are not necessarily adept at explaining these issues to FSBOs.]
Search the Sequim MLS and the Port Angeles MLS directly from this real estate blog. 
UPDATE: There's a brand new article that updates this discussion of the NWMLS v OLS well worth reading.
Last Updated on August 18, 2009 by Chuck Marunde