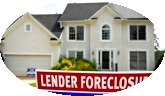 Real estate investors are scooping up the deals and making millions.   Right?   Wrong!   I met with an investor the day before the Thanksgiving holiday, and he   was ready, willing, and able.   Like the vast majority of real estate investors     around the country right now, he is having trouble pulling the trigger on a buying decision.   Why?
People think the general state of the real estate market creates grand opportunities for investors, and it does, but only in a general sense.   The fact that the real estate market is in a major slump undoubtedly creates an environment of opportunity.   But an investor must find that diamond in the rough, and that is not easy.
We've all been talking about how many foreclosures there are, and it seems every day there is another news headline about the large numbers of homes in foreclosure.   But try to find a single home in a good area that has the parameters of a good investment, such as three bedrooms, two baths, a double car garage, including one that will crunch the numbers you need, well . . . that's a horse of a different color.
Intelligent investors are not interested in junk, and there is a lot of junk out there.   There are homes in unattractive areas that are not going to rent or sell well.   Forget those.   There's a home in a nice area, but the retired couple that owned it built only two bedrooms and an odd kitchen.   Forget that.   There is a nice three bedroom, but it only has one bath, and the home is built on a potential mud slide.   There's a cute cottage on a busy street.   No.   There's a perfect home in foreclosure, but the current owners are obstinate, and so that one won't be available until the Trustee's sale when there are 227 other people competing to buy it.   Don't want to go there.
When you do find one (have you got 40 hours a week to do research and drive around?), the numbers have to crunch for you.   If it's going to be a good investment, you have to be able to pick up some equity, and it's hardly worth investing if you can't pick up $20,000 to $80,000.   After all, you're going to have to put some money into it to fix it up or make it sellable, and you'll have carrying costs and selling costs.   If you want to flip houses, you'll have to sell well below current fair market value, which means you definitely need a good chunk of equity built in to your investment from the beginning.
One has to be very careful buying homes in distress.   A successful investor I know purchased a foreclosure home at a Trustee's Sale at a seemingly good price, but later discovered the timbers in the crawl space have to be replaced because of dry rot.   All his profit just went poof!
This is why it is not so easy to be a real estate investor, even in times of plenty.   There are plenty of houses for sale, but finding the perfect investment project is definitely a struggle.   They're out there, but good luck finding them.
Last Updated on November 28, 2008 by Chuck Marunde