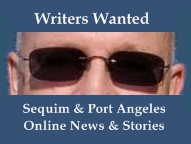 Writers in Sequim and Port Angeles needed for a new online "newspaper" with local news, human interest stories, non-profit news, school news, sports news, real estate news, health issues, senior citizen news, events calendar, opinions, speciality news (equestrian, dog, boating, hiking, etc.), photographs, videos, and much more.   See it at Sequim and Port Angeles News Online.
Writers do not have to be professional writers, but you must be passionate about your subject.   Writers can be any age, and we are adding student writers from the schools.   We will call our writers correspondents.   This is a voluntary position.   Only those who love what they do and are passionate about what they do are qualified.
Do you own a successful business in Sequim or Port Angeles, and can you share your knowledge and experience with others?   This is a great forum to do that.
Do you want to make a valuable contribution to your community and to the lives of others living here?   This is a perfect way to do that.   There's hardly anything more fulfilling than sharing your knowledge and experience to help improve the quality of other people's lives.   Become part of a community that is developing here.   Join us.   This is going to be very exciting.
Email our Editor, chuckmarunde@gmail.com, and let him know what your experience and interest is.
Last Updated on February 14, 2009 by Chuck Marunde